ALCINE_lab
[Monday 7 - Thursday 10. 11h00. A.H. Santa María La Rica]
ALCINE_lab
Heir to the mutant and formative spirit of Partiendo de Cero, ALCINE_lab is born as a space for all imaginable formats for the production of knowledge and thought around the image have a place, and claims itself as necessary. It can host a laboratory of ideas; a traditional classroom; workshops involving bodies; ocular expeditions or sound vigils. ALCINE_lab aims to be a space for relaxation, an outlet, a place where you can go without a notebook or write down every last comma.
This first edition of Alcine Lab, curated by visual404 and mediadistancia, aims to move through and construct a history of cinema based on objects, affections, relationships, ontography or territories to generate a multiplicity of narratives, escaping from a history of cinema built around schools and authors.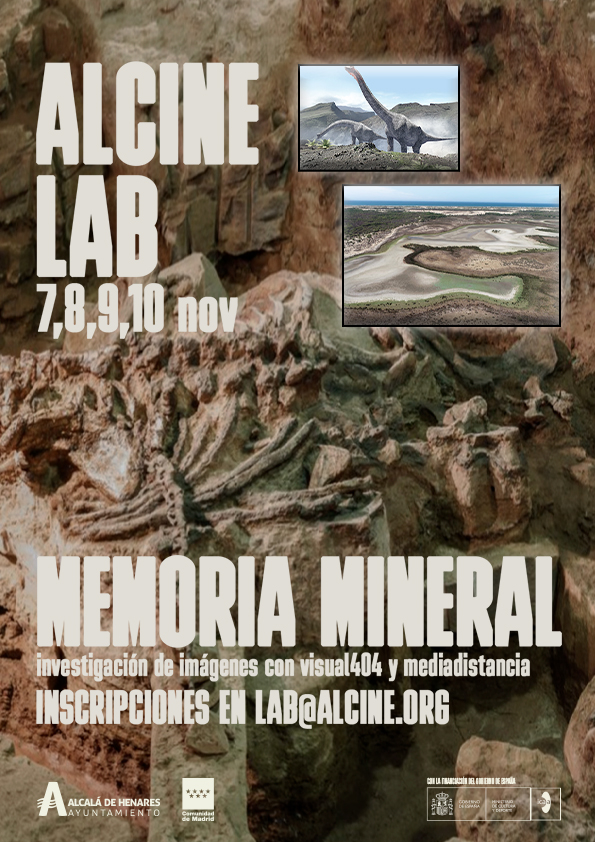 lab01: MINERAL MEMORY
With visual404 and mediadistancia
Last month, as the last drops of the small puddle of water remaining in the Santa Olalla lagoon in Doñana dried up, a coarse surface of yellowish-white sands of quartz grains and feldspars drove the waterfowl out of the national park. At the same time, some 444 km away, a neighbor in Pombal was trying to extend its garden into a sedimentological structure with much in common, thus uncovering the fossils and remains of the largest sauropod dinosaur ever recorded in Europe.
Our depleted, thirsty and dying present shapes the future. Challenges such as global warming, technological, energy and industrial obsolescence and how these collide with the past, give rise to other scales and temporalities that encourage us to take responsibility for the narratives and fictions we produce.
In this first edition, entitled Memoria Mineral, we want to investigate the ways in which audiovisual production and criticism operate in these contexts of urgency, allowing us to expand the senses and capacities to communicate complex and decentered narratives. During four sessions we will work on audiovisual pieces and exercises together with different collectives, artists and researchers, generating a publication that brings together the visual thinking of these contemporary challenges. In each of these sessions, participants will be able to generate their own images and ideas based on the proposed exercises.
In the last session, we will layout and assemble this publication, which will compile all the images, texts and proposals that the participants have generated in the exercises throughout the lab. The process of manual work on our own materials serves as a final reflection and conclusion to the seminars. Each participant will be able to take home a fanzine at the end.
PROGRAMME
Salón de Actos del Antiguo Hospital de Santa María La Rica. Horario: 10:30-14:00h

M7

Underground stories: ghosts, dust and precious stones.

Blanca Martínez Gómez (visual404)

T8

Open Letter

Aldara Pagán

W9

Round Table

Loreto García Saiz, Bárbara Fluxá y Álvaro F. Pulpeiro. Modera: mediadistancia

T10

Production of the publicaction

visual404 + mediadistancia
CURATORS
visual404 is an independent medium of digital anthropology and critical thought born in 2014, it was directed by Blanca Martínez and Sofía Machaín. With a design based on web gamification from a feminist perspective, the six-volume visual404 magazine is characterized by its tension at the intersection between digital narratives and the connections between film and other media. It has collaborated with festivals such as Gijón, Seville, Locarno and Sao Paulo.
Mediadistancia is a collective born out of the fourth edition of the CineZeta program at Cineteca Madrid. Their work focuses on the creation of spaces and community links through which to think about film. They have published a fanzine, Cercanías, organized the Compartir Carpeta meetings, and curated screenings at the Documenta Madrid and Al Fresco festivals.


SPEAKERS
Aldara Pagán. Visual Artist trained at the University of Santiago, the Elías Querejeta Zine Eskola and the LAV Master in Madrid. She collaborates in festivals such as OUFF, CINEUROPA, (S8) and Curtocircuíto and as a critic in A Cuarta Parede.
Loreto García Saiz. Pre-doctoral researcher and lecturer in the Department of Communication at the Carlos III University, and member of the TECMERIN research group. She has worked as a filmmaker and educator in European social and environmental projects. She is currently researching audiovisual representations of the plastic sea from a migratory and ecocritical perspective.
Bárbara Fluxá. Multidisciplinary artist, PhD in Fine Arts from the Complutense University of Madrid, where she is currently a researcher and teacher. She is part of the research project Aesthetics Fossil, at the CSIC, which aims to clarify the relationship between aesthetics and ecology throughout modernity.
Álvaro F. Pulpeiro. Filmmaker raised between Galicia, Brazil and Australia, Pulpeiro graduated as an architect in London. His documentary work approaches film not only as a narrative tool but also as a sensorial experience, exploring concepts such as exile, alienation, or the poetics of the industrial. He is currently developing his first feature-length fiction film set in oil-rich Venezuela.
REGISTRATION
Free of charge. Limited places. Send a letter of motivation (max. 20 lines) to lab@alcine.org and select a video clip that interests you in relation to the theme of the workshop (attach a YT link or similar). Add in the email the reason for the choice of the video.