History of a Film Festival
HISTORY OF A FILM FESTIVAL. DOCUMENTARY, FANTASY, ARGUMENT.
Capilla del Oidor. Plaza de Cervantes. Alcalá de Henares.
From 29th of October 2021 to 9 of January 2022.
How to tell the 50-year history of a festival like ALCINE in an exhibition is quite a challenge.
First of all, we thought of trying to recreate an oral history, based on interviews, testimonies and memories of filmmakers, organisers and audiences. Later, while researching in the archive, we came up with three key words:
DOCUMENTARY FANTASY ARGUMENT
These were the three categories into which the short films were classified in their first editions. Although some of them sound anachronistic today, we think they reflect very well what you are about to see.
Documentary. Because it is an unprecedented immersion in the festival's archives. We have rescued documents, graphics and photographs that have never been shown before and that allow us to know the evolution, not only of the festival but also of our history and our images.
Fantasy. Because, where we have not reached as documentary filmmakers, we have opted for imagination. Both in the three pieces produced for the occasion by the artists Teresa Valero, Jota Martínez and Zaida Escobar and in the works kindly donated by filmmakers and animators, which invite us to look far beyond our reality.
Argument. Because, in an exercise of memory and through various thematic panels and guest signatures, this journey through our history reaffirms the commitment with which the festival was born: the defence of freedom and culture as an engine for the progress of society and our improvement as people.
Because telling a story of ALCINE, from among the many possible ones, can be a challenge, but from the beginning we were clear about one thing: the protagonists would be the people. Filmmakers, yes, but always at the same level as the technicians of their works, the organisation of the festival, the staff of the different venues and spaces, the collaborators of all kinds and, especially, the citizens of Alcalá. Women and men who have been supporting ALCINE for half a century and without whom we would not be here today.
Because a cinema, without people, is nothing more than an empty screen.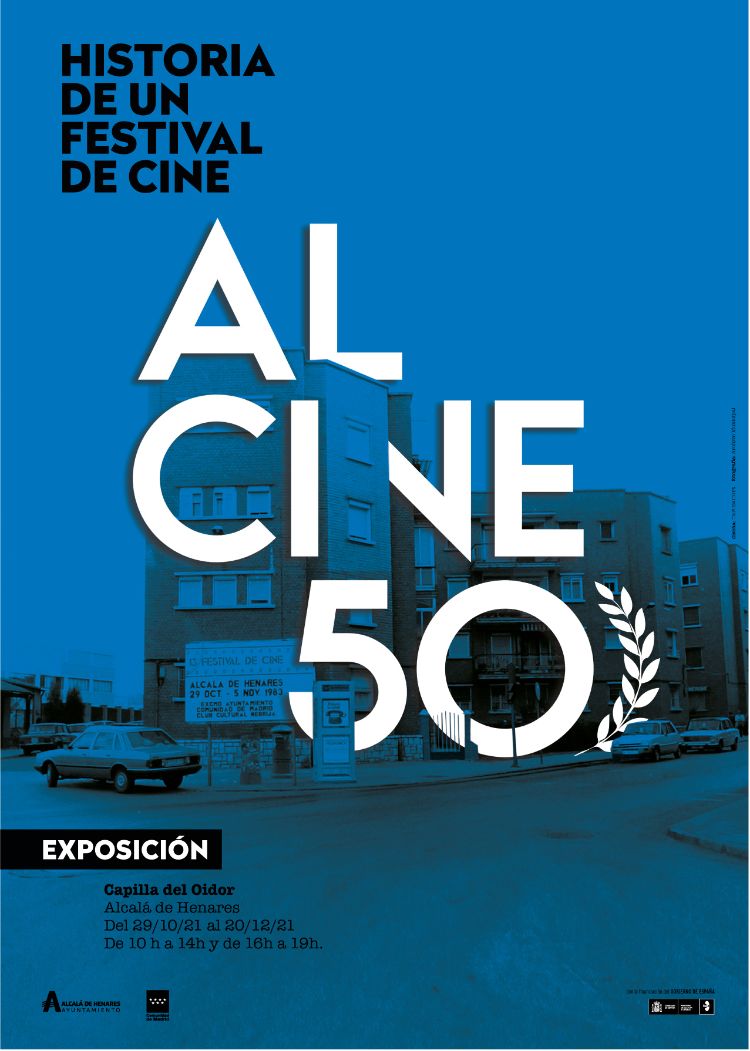 An original production by
ALCINE - Alcalá de Henares Film Festival / Community of Madrid
Guest artists: Teresa Valero, Jabi Medina, Jota Martínez and Zaida Escobar Original posters: Modesto Quijada, Fernando Calvo, Alfonso Cortezo, Paco Atienza, Jesús de Haro, Rodolfo Vargas, Montxo Algora, Enrique Vara, Dis Berlin, Jaime Nieto, Iván Zulueta, Roberto Fuentes, Vicente Alberto Serrano, Bolaextra and TRIPL3SALTO.
Additional texts: Jara Yáñez, Annette Scholz, Adrián Encinas, Borja Crespo, María Rubín, Tim Redford, Pablo Hernando and Blanca Martínez "HJ Darger".
Production: Carmen Jabonero
Editing and infrastructure: Antonio Bas and team.
Graphic design and visuals: TRIPL3SALTO (Patricia Pastor + Caterina Rimelli).
Documentation and video assistants: Clara di Carlo and Gala Martínez Cubillo
Research and curatorship: Pedro Toro
Acknowledgements: Luis Mariano González, Fernando Calvo, Vicente Sánchez Moltó, Coke Rioboo, Carla Pereira, Juanfran Jacinto, Alberto Vázquez, Movistar +, Hemeroteca y Centro de Documentación de Alcalá de Henares, Archivo Municipal de Alcalá de Henares, .
Note on the images: In an exhibition with so much and so diverse material, we have tried to contact all rights owners and credit them where possible. All of them are shown for documentary purposes and without any profit motive.
Throughout the history of the festival, its regular photographers have been José Saborit, Javier Cardenete, Martin Legett and Rubén Gámez and most of the photographs of this type belong to them.
Should you find any errors or omissions, please contact exposiciones@alcine.org and they will be corrected as soon as possible.