ALCINE Kids
Sessions of children's animated short films for schools and families. Arranged with schools at CSC Gilitos and general access at the Teatro-Salón Cervantes. Curated by ALCINE's youngest programmer and, for the first time, preceded by a poster and an animated bumper created by the little-audiences themselves in a workshop with artist Beatriz Lobo during the previous weekend.
As a complement we will offer a screening with the children's selection of the best of the prestigious Annecy festival.
Program: Emma Tolosa Scholz, 11 years old.
Poster and workshop: Beatriz Lobo, 37 years old.
Screenings of short films for children:
- Saturday, 12th of November 17h ALCINE KIDS (without booking, tickets at the box office) TICKETS

- Sunday, 13th of November 17h ANNECY KIDS (without booking, tickets at the box office) TICKETS

- Wednesday, 16th of November 10am (by arrangement with schools)*fully booked
- Tuesday, 22nd of November 10am (by arrangement with schools)*fully booked
- Friday 11 of November 17h Centro Sociocultural Gilitos (https://culturalcala.es/espacios/centro-sociocultural-gilitos/ free without registration, until full capacity is reached)
Due to the high demand we are trying to open new sections on other dates.
The activities are free of charge and will take place at the Teatro Salón Cervantes in Alcalá de Henares.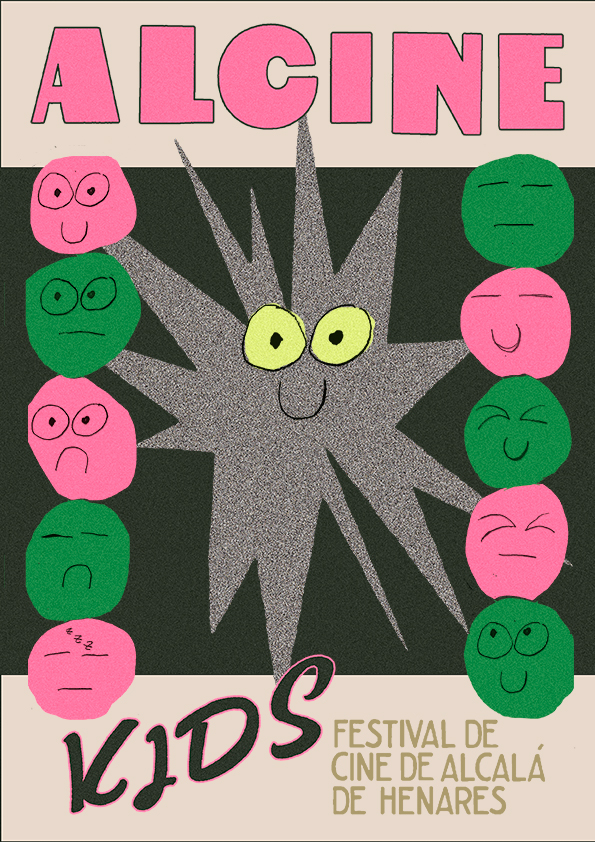 Animated Bumpers Workshop

[Saturday 5 and Sunday 6. 12h00. Casita del O'Donnell]

With BEATRIZ LOBO.
Limited places Free registration from 6 years old
Bea is an artist. She has had exhibits in museums and galleries and has also painted pictures that have been used as album covers, film and festival posters. She has worked in theatre and in films such as Espíritu Sagrado. She also does animated GIF workshops for children and has illustrated collective books such as El Moyanito, mixing her drawings with those of children in Madrid.
In addition to the fantastic spark surrounded by pebbles that lights up the poster, we have proposed to Bea the challenge of creating, together with the children and families who attend, the animated curtain of ALCINE Kids. A workshop in which you will be able to give free rein to your imagination and, some time later, see it in motion on the screen of the Teatro-Salón Cervantes with all your friends and family.
Premiere of the curtain at the ALCINE Kids and Annecy Kids sessions on 12 and 13 November at the Teatro Salón Cervantes.
From 6 years old, accompanied by an adult. 15 places per day. Materials included.
Due to the organisation of the screenings for schools and workshops, it is essential to book through our online form: