ALCINE PRO
[Sunday 6. 11:00. Salón de Actos del AH Santa María La Rica]
5TIPS. Informal and International Festival Meeting
An agile and entertaining format in which four international speakers will address 5 key tips with differing topics that concern professionals in the sector. Diversity as a point of inspiration for our own programming, how to present ourselves in markets and industry events, the possibilities of European programs and inter-festival alliances, as well as the challenge of sustainability will be some of the topics to be discussed in this meeting between different European festivals. There will be speakers from the United Kingdom, Belgium or Germany. A place to meet, learn and share ideas among colleagues.
Admission is free, and the talks will be given in English or Spanish, with the assistance of an interpreter.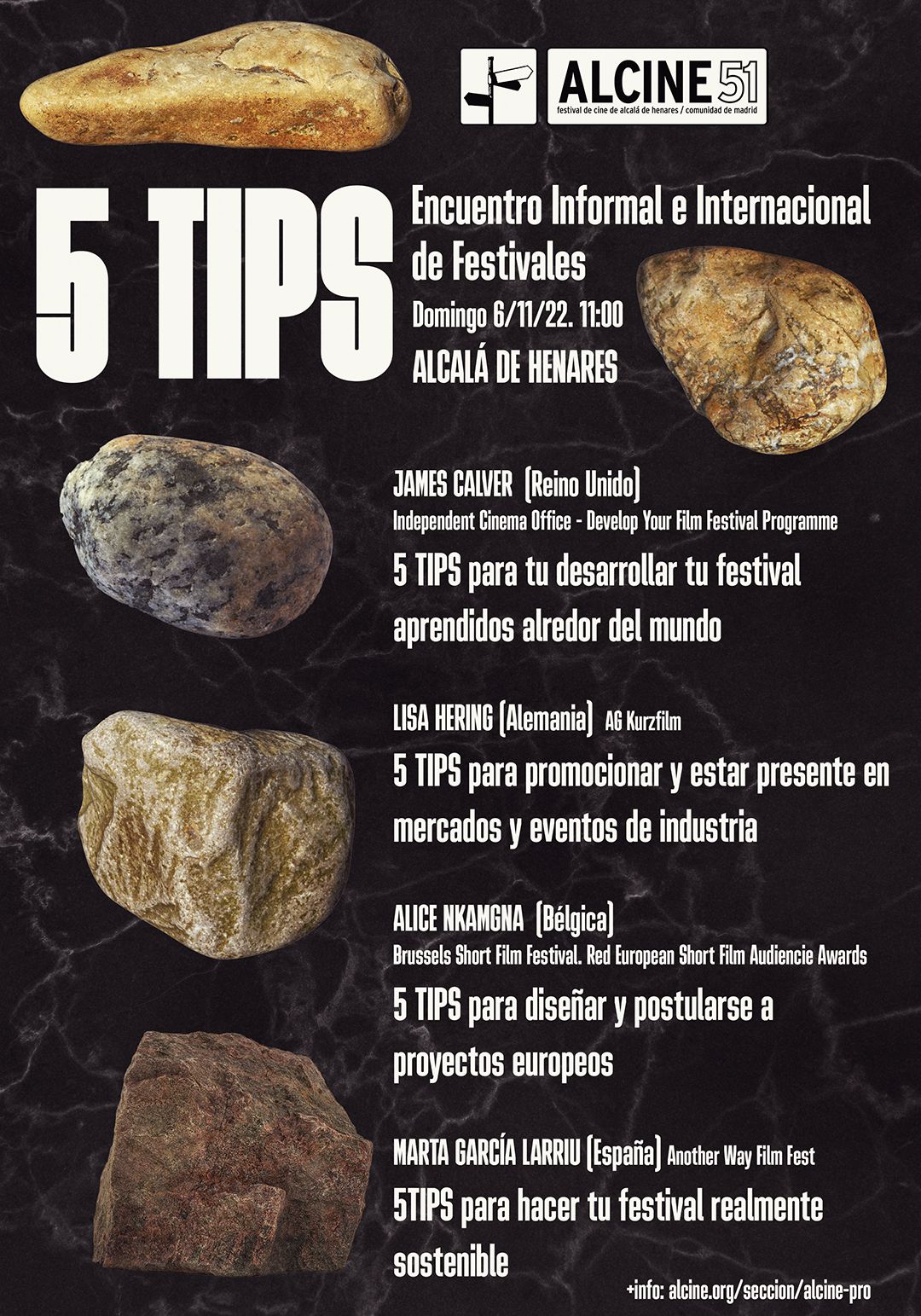 Sunday the 6th

11:00

5 TIPS for your festival development learnt from around the world

James Calver - Independent Cinema Office - Develop Your Film Festival Program





00:40





11:40

5 TIPS for promoting and being present at markets and industry events





Lisa Hering. AG Kurzfilm





00:40





12:20

Coffee break

00:20





12:40

5 TIPS for designing and applying for European projects

Alice Nkamgna - Brussels Short Film Festival. Red European Short Film Audience Awards (ESFAA)





00:40





13:20

5TIPS para hacer tu festival realmente sostenible

Marta García Larriu. Another Way Film Fest





00:40




Alcalá Film Office: Filming and Scouting Office
Alcalá is a film city- a great film set only 30km. from Madrid and 15km. from Barajas Airport with excellent locations for all kinds of productions, films, TV series and commercials. It is a large city with more than 200,000 inhabitants and comes with the advantages in services that this entails. Additionally, it is a perfectly preserved historic site that offers great possibilities for all kinds of productions.
With the idea of attracting more audiovisual shoots to the city of Complutense, we are convening a group of professional location scouts. The Film Office will be in charge of showing different gems of Alcalá de Henares, adaptable to all kinds of cinematographic needs.