Golfomaratón Comedy Show
Friday 10 November. 22hr.
Teatro-Salón Cervantes. 3€
This year, as in previous years, we are immersing ourselves in the depths of the comedy of the absurd, extreme animation and the most vulgar and foul-mouthed European short films on offer on a night to be taken in with an open mind and the jaw dropped to the floor.
Dogs in space, extreme depilation, "tinderazos", homo-eroticism and plumbing are just some of the elements and characters who are set to take the stage in the Teatro-Salón Cervantes, and as per usual, armed with the most ingenious texts and most personal voices on the national comedy scene.
We just need to name some of the comedians.
Raúl Navarro: Veteran producer and scriptwriter (El Intermedio, El fin de la comedia), from Albacete and dressed to kill in the most printed of his printed shirts is ready to let rip on stage with his black and caustic humour.
Susi Caramelo: Her fresh and natural style harks back to her birthplace of Hospitalet, which she proudly trumpets on stage. She has also learnt to detect date-rape druggers and to survive life in Madrid in the posh-kids-thousand-euros-a-month club… Her brazen stories of the night have made her one of the latest stalwarts on the scene, as any fans of Comedy Central or Vodafone Yu already know for sure.
Archie Bezos:Pioneering LGTB stand-up in Spain; hilarious, risqué and very acid, his comedy stands out for its heartrending sincerity, its bitchiness and the number of gags per minute, the result is audiences adore him from the word go.
Short Music: Judith Mateo + Hard Candy DJ
Saturday 11 November 22:00hr
The Green Irish Pub

In cooperation with The Green Irish Pub, we are proud to present a night in which we will travel from traditional music to the latest dance sounds with two women to be reckoned with at the helm.

Judith Mateo
22hr 10€
With an audience of over a million on spotify for her fourth piece of work "Celebration Day", Judith Mateo has established herself as the only rock 'n' rolling women violinist in Spain and one of the most successful internationally, as evidenced by her tours to Japan, Mexico and all over Spain.
She is passionate about Irish music, her roots in Asturias, and her classical training but her rock influences are her calling card, which come into sharp focus at her barnstorming live performances with the audience connection there from the start. Traditional numbers and her own join forces in a kind of Celtic rock fusion. The violin notes unite with the harmonies of Chuse Joven, electric guitar, bass and drums. A performance adapted to the modernity of new technology, and a meticulous scenography.
Hard Candy + Mindelicious DJ
Exchanging the violin for the soap bubble pistol, Hard Candy DJ is on hand, a regular in Madrid clubs such as Maravillas and Ochoymedio and the creator of the Bubble Gun session of the longed for Ego-Live alongside Mindelicious, the arms of this Alcalá DJ are loaded with the best indie, pop-rock and electronic tracks to wear down the soles of every last trainer in the room.

Monologue: Virginia Riezu – You're quite funny for a woman.
Sunday 12 November. 22h
Corral de Comedias in Alcalá de Henares. 3€
The popular comedian, actress and improvisationist Virginia Riezu (Comedy Central, Improclan - Teatro Alfil, El Club de la Comedia…) is here to present a show in which the comedy of the absurd, irreverence, tenderness and participation and interaction with the audience reign supreme.

"This is not a fitness session, I am not Fitgirl, or an it-girl, and I don't recommend tights either. I am not a youtuber or an instagramer. Neither will I teach you to plait your hair. At this show, I will take stock of my life.

There are no characters here, just a disconnected, irreverent and absurd story of how I've managed to live and survive as a woman all this time".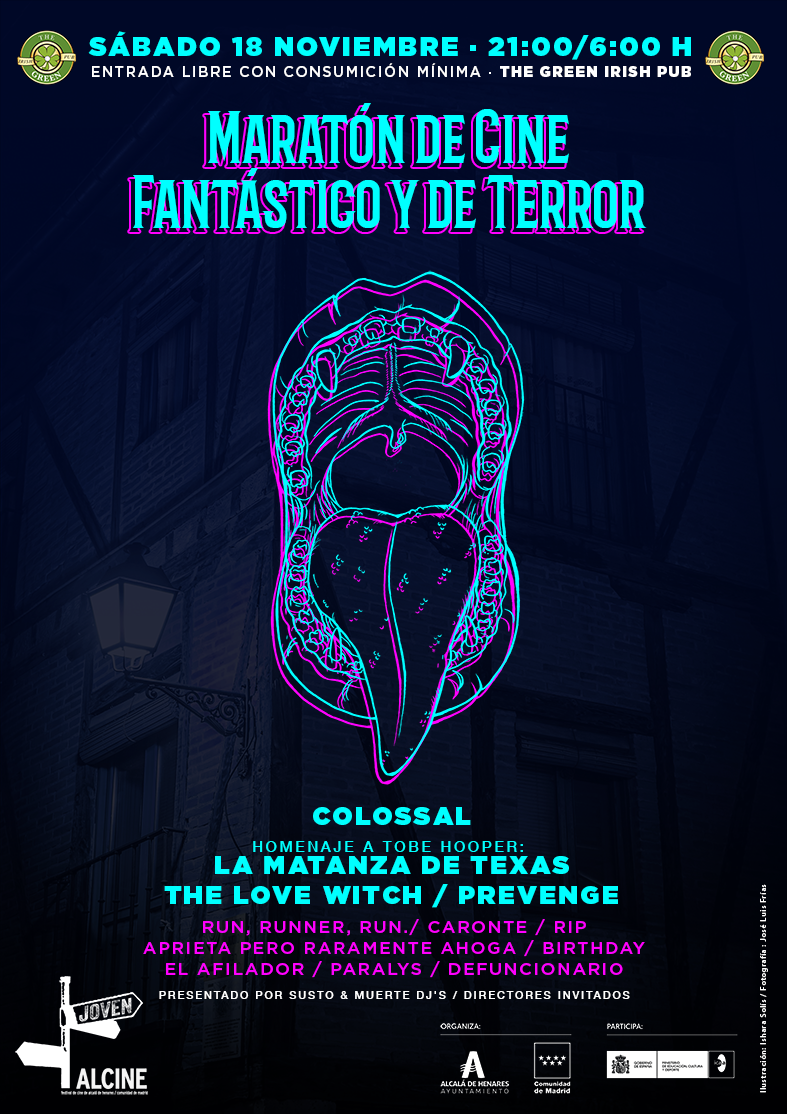 Marathon of Fantasy and Horror Movies
Saturday 18 November – From 9 pm to 6 am.
Location: The Green Irish Pub. Free entry (with minimum consumption)
We have extended the night most loved by fans of being scared and in the shadows in a veritable marathon of short and feature films, by recovering the spirit of those legendary Alcalá nights that brought together hundreds of spectators over a decade ago.
There will be local and international productions, short films just in from Sitges, space adventures, haunted hospitals, Grand-Guignol funerals, dog charmers, functionaries, zombies, nightmares it's better not to wake up from, and races that could cost you your life.
All in conjunction with the best genre movies that have appeared on our bill boards over the last year, love witches, 39 week killers, family chainsaws, colossal monsters, tributes to the dead, invited directors, presenters from the underworld, a bar open to dawn, a surprise or two, and caffeine, lots of caffeine.
PROGRAMME:
Presented by: Susto & Muerte DJ's

Feature films:
Colossal
Tribute to Tobe Hooper: Texas massacre – 40th anniversary edition
The Love Witch
Prevenge
Short films:
Run, runner, run.
Caronte
RIP
Aprieta pero raramente ahoga
Birthday
El afilador
Paralys
Defuncionario